SPOTIO allows you to configure Custom Activities and Activity results under the Workflow section of Settings. Activities are shared across all data objects. Custom Activities and Results allow you to track your team's interactions in the field specific to the particular activity they are executing. With Custom Activities and Results, sales teams are able to gain visibility into the outcomes of any scheduled sales activity including Visits, Appointments, Calls/Texts, and more!
Configuring Custom Activities and Results
Navigate to Settings and click "Workflow" from the options at the top of the screen
Under the Activities section, click the "Configure" icon. This will open the Activities page under Workflow.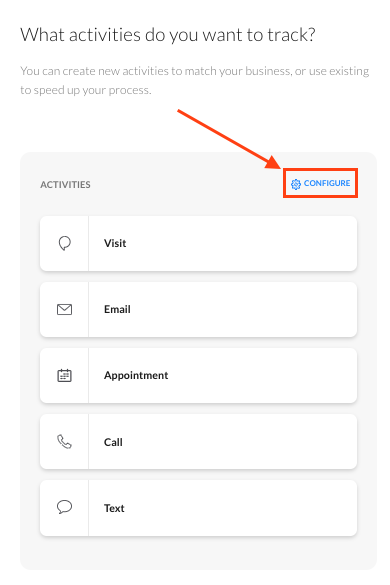 Here on the Activities page, you can select an Activity to edit or create new Custom Activities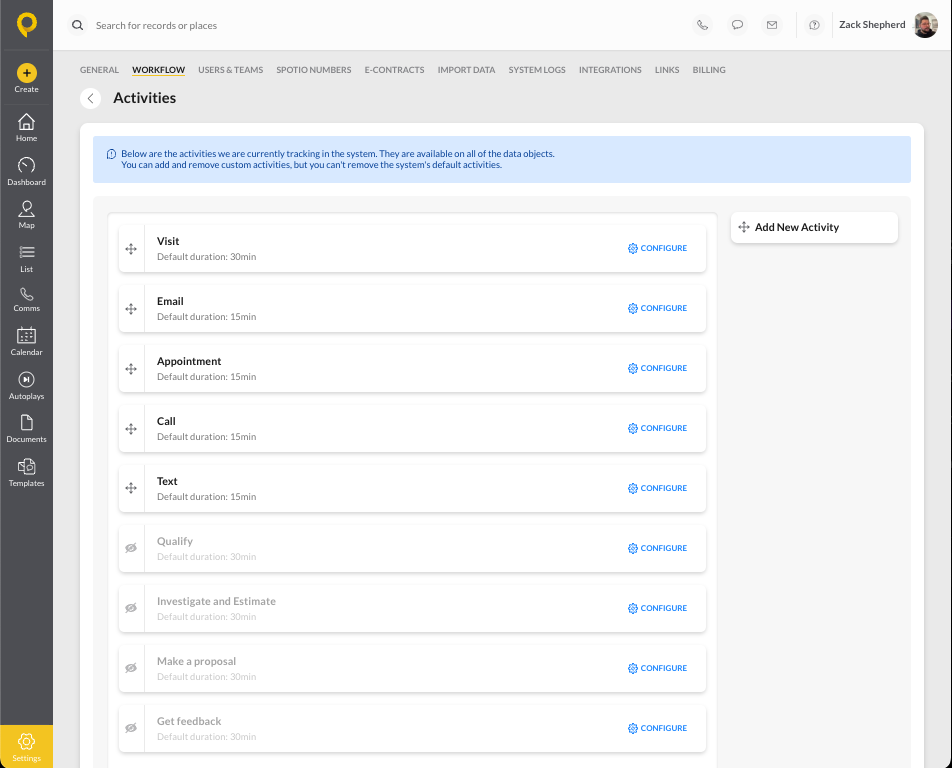 Step 3 - Select the Activity you would like to edit by clicking the "Configure" icon next to the Activity Type

Here you can edit Result names and colors, default duration for the activity when scheduled, and Suspend unwanted activities. (Note: Visit, Email, Text, Call, and Appointment are unable to be suspended).
Default Activity Types:
SPOTIO provides default activities for you to use and customize. You can customize the results of these activities. The names of default activities are not presently customizable.
Visit - Visits are a special kind of activity. They can be logged without creating a calendar event for that activity and allow you to track Face-to-Face interactions from your team in the field. Visit Results are used by many teams to track door knocks and results, or any other type of face-to-face prospecting activity.

Call - Call Results appear after a call from a SPOTIO Number has been completed. The user placing or receiving a call can provide a result for that communication here, as well as any notes from the call.

Text - Text Results are automatically logged after a text message has been sent or received by a SPOTIO Number.

Email - Email Results are automatically logged after an email has been sent from an integrated email address.

Appointment - Appointment Results can be used to disposition an appointment that has been created. They are typically used by Closers to mark what happened at an appointment to provide visibility of results to Appointment Setters, Managers, and Admins.

Other Default Activity Types:

These include "Qualify", "Investigate and Estimate", "Make a Proposal", and "Get Feedback".

You can customize the results for these too, or suspend them from use.




Creating Custom Activities
Drag the "Add New Activity" tile into your list of Activities to create a new activity. Customize the Name, default duration, and Custom Results in the "Add Activity" window that opens to the right.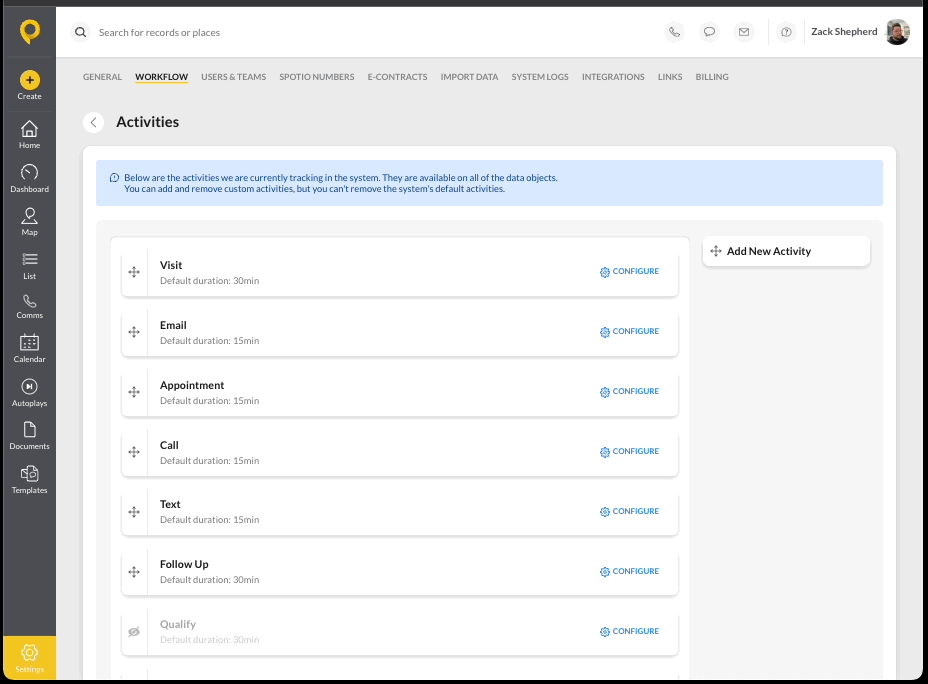 Default Duration

This is the amount of time that will be blocked by default on the assigned user's calendar for the activity when it is scheduled.
The user scheduling an activity can modify the duration of the activity when they schedule it.
Creating Activity Results
For any Activity, you will see a section for "Custom Results". Here you can add any Results you would like to track for the specific activity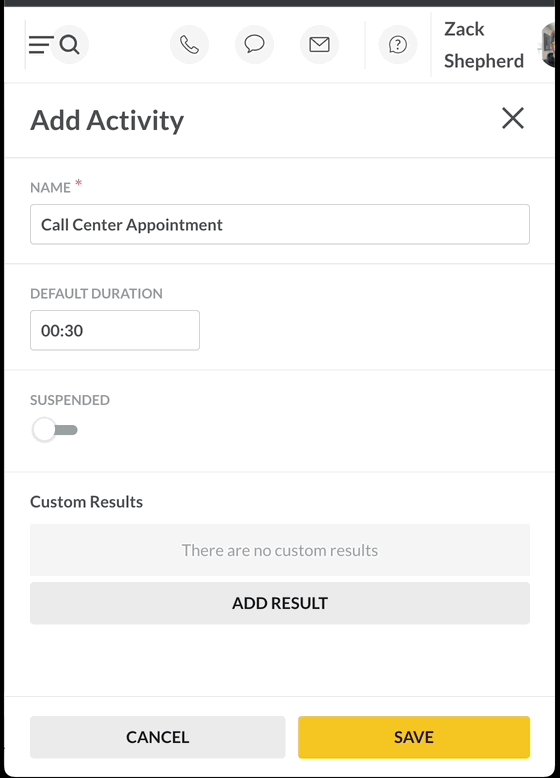 To Create Activity Results:
Click the "Configure" icon on the Activity you want to customize results on.

Add a Title and Color for your Activity Result

Click "Add" to add this Result to your list.

You can drag and drop results in the Custom Results list to change the order they appear when a user completes the Activity.

Once you have all of your desired result options customized for the activity, click "Save" at the bottom of the screen.