User Management: Adding Users
As an Account Admin, you can add or suspend users easily from SPOTIO's web app. To complete the registration process for each user, you will need to provide their name, email address, and mobile number, as well as define their permission level and territory access.
How to Add Users
To add a user follow these steps
Access this page with a shortcut by clicking the plus icon above 'Home' labeled 'Create and select 'User.' 
Navigate to SPOTIO web
Go to the settings icon found at the bottom left corner of the page
Find the "Users & Teams" tab toward the top middle of the page
Click the "Add User" button at the top right of the page
Fill in all required information and set permissions then click "Invite" 
Images for this process can be found below.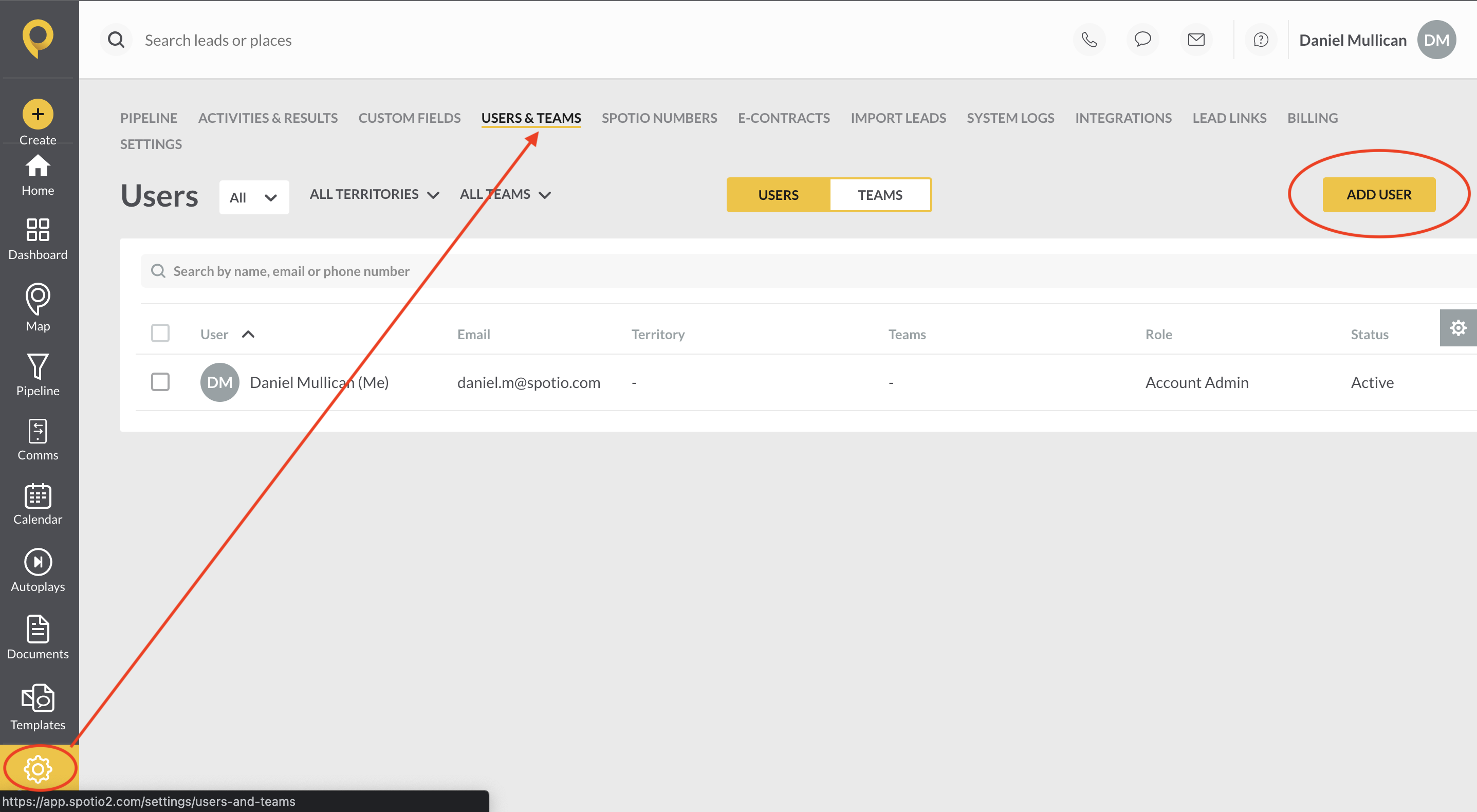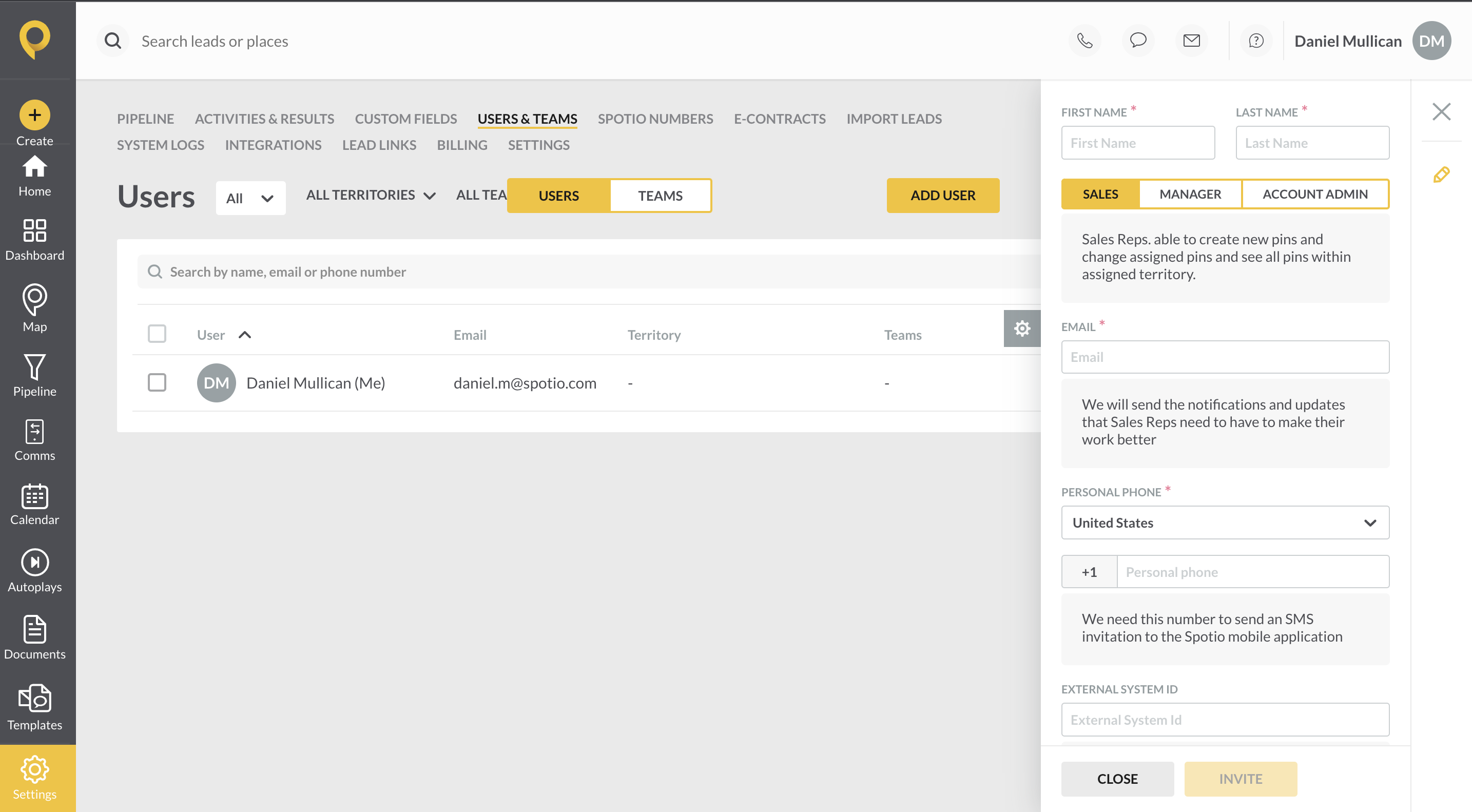 Required Information
First and Last Name
Email Address -

This should be the email address they use for work communications

Mobile Phone -

This should be to the mobile phone they will be using to access SPOTIO with. A 4-digit code will be sent to this number via SMS/Text to complete the setup process.
NOTE: If the phone number or email address belongs to a registered user on a different SPOTIO account, you may receive an error. Please contact SPOTIO support if you feel you are getting this alert in error.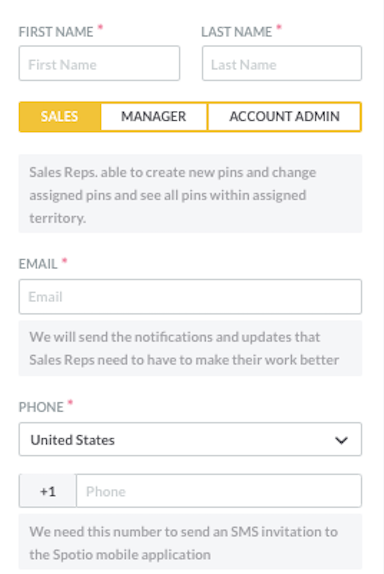 Permission Levels
Sales -

Sales Reps are able to create new leads, change assigned leads, and see all leads within their assigned territory.

Manager -

Managers have full access to all leads and users within their assigned territory.

Account Admin -

Admins can change company settings, including billing.
Territories Access
Global -

Access to all leads, regardless of their assigned user.  

Limited -

Limited to the leads in their territory

To assign a user to a territory, even a manager, they need to have Limited access.

A single user can be assigned to multiple territories.

If the rep is outside their assigned territory, or in an area where there is no territory, they will see 'ghost' pin for leads that are currently being worked by another user.
Optional Information
External System ID - If you have an existing CRM you are integrating with SPOTIO, you can enter a specific User ID here.
How You're Billed
SPOTIO has a license-based billing structure. New users are automatically assigned to available licenses on your account. However, if you are out of open licenses, a new license will be added to your account. All licenses added during an active billing cycle will receive a pro-rated charge for this user for the remainder of your billing cycle. Find more on SPOTIO's billing in this KB article - SPOTIO Billing: Managing Your Invoice.