Zapier Integration
At SPOTIO, we know you have a lot of tools in your kit and that it would be great if SPOTIO could connect with the applications you already use, or might want to use in the future. That is where Zapier comes into play. Zapier is the plug-and-play integration tool that acts as a middleman and will allow you connect SPOTIO to over 1000+ applications.
What's Covered in this Article:
Connecting to our Zapier

Building a Zap

Customizing a Zap

Frequently Asked Questions
Connecting to our Zapier
Currently, our SPOTIO Zap is listed as private--you will need the link provided below. If you go directly to zapier.com and search for SPOTIO, you will find our legacy applications Zapier connection and that won't work. Please use the link provided below.
**Note** Toggle ON the Zapier button on your Admin Settings panel (under Integrations)
Step 1:
CLICK HERE to access our Zapier Connection
Step 2:
Once you have accessed the zap invite, if you already have a zapier account, click the 'Login to Accept Invite' button at the bottom of the page. If you don't have a zapier account, then you will need to click on 'Sign Up to Accept Invite' first.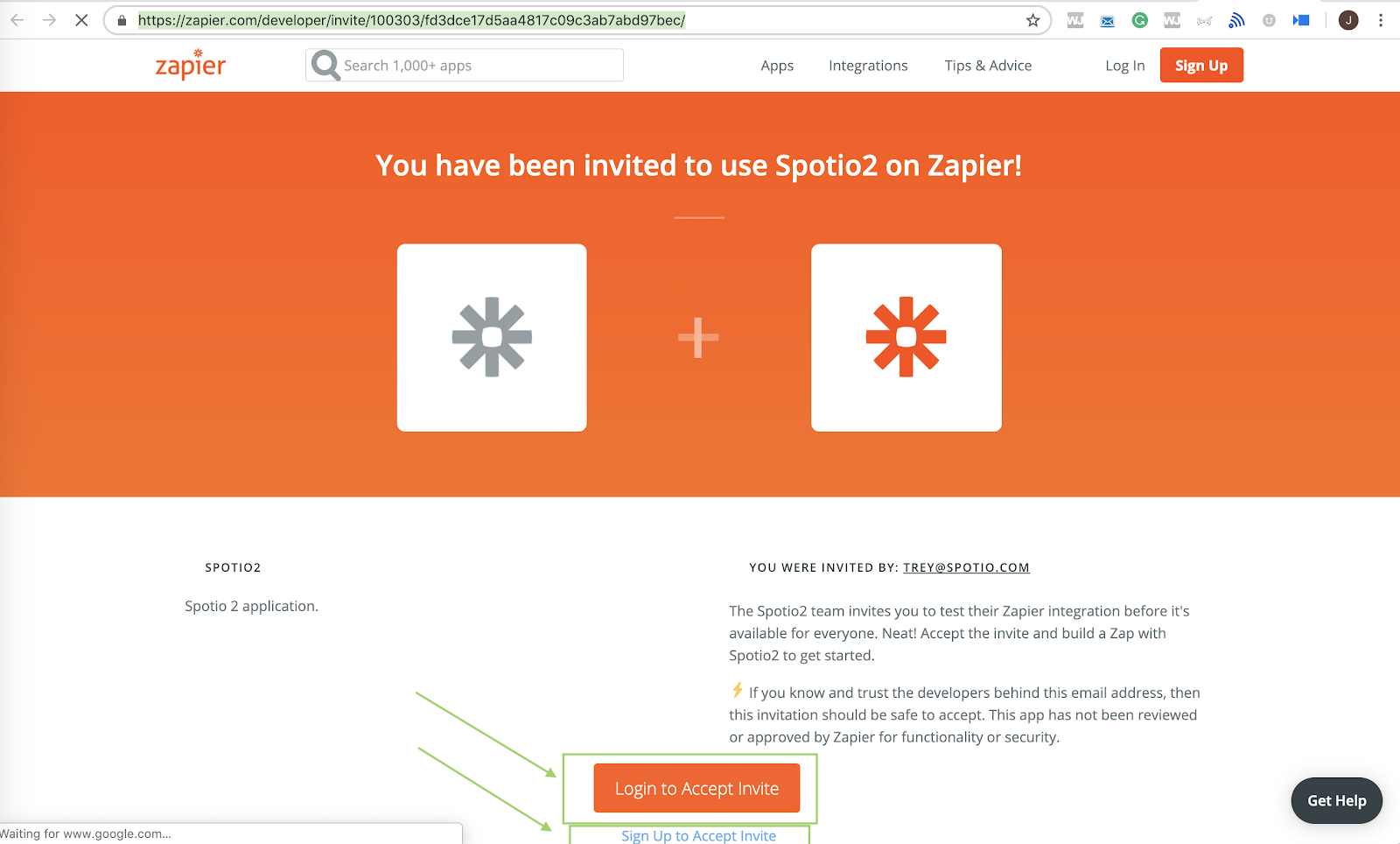 Build a Zap:
After accepting the invite to build the invite, you will determine what event will kick off the data transfer between the different applications you will be using. The main terminology that you need to be familiar with is 'trigger' and 'action'. Trigger is the application that will start the data transfer and the action is what you want to have happen in the secondary application,
Step 1:
Choose one of the options that SPOTIO provides for the kick off event that matches your need.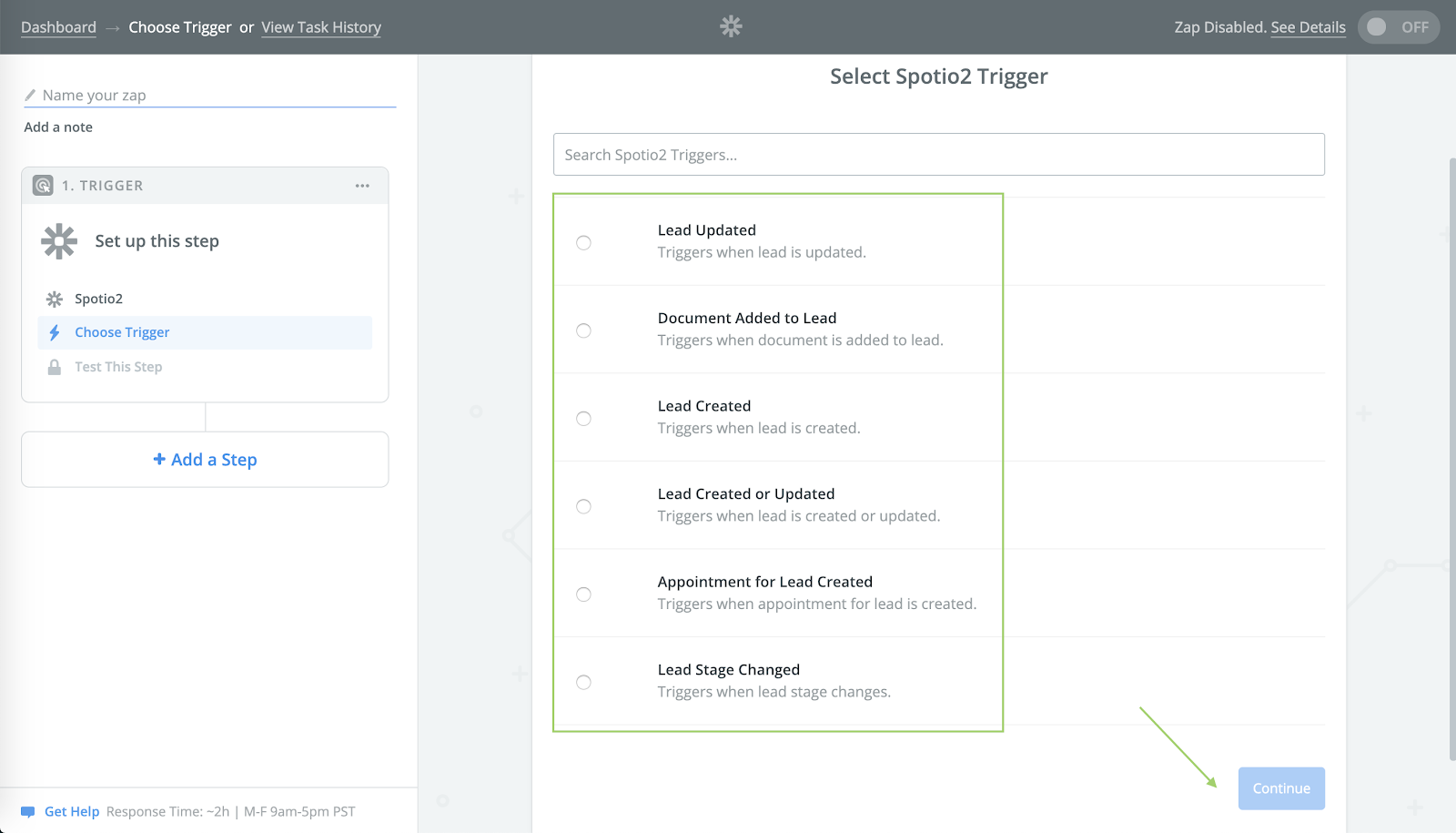 Step 2:
Connect your SPOTIO account. You will be asked to log into you SPOTIO account. Do that with your SPOTIO-linked email address and password.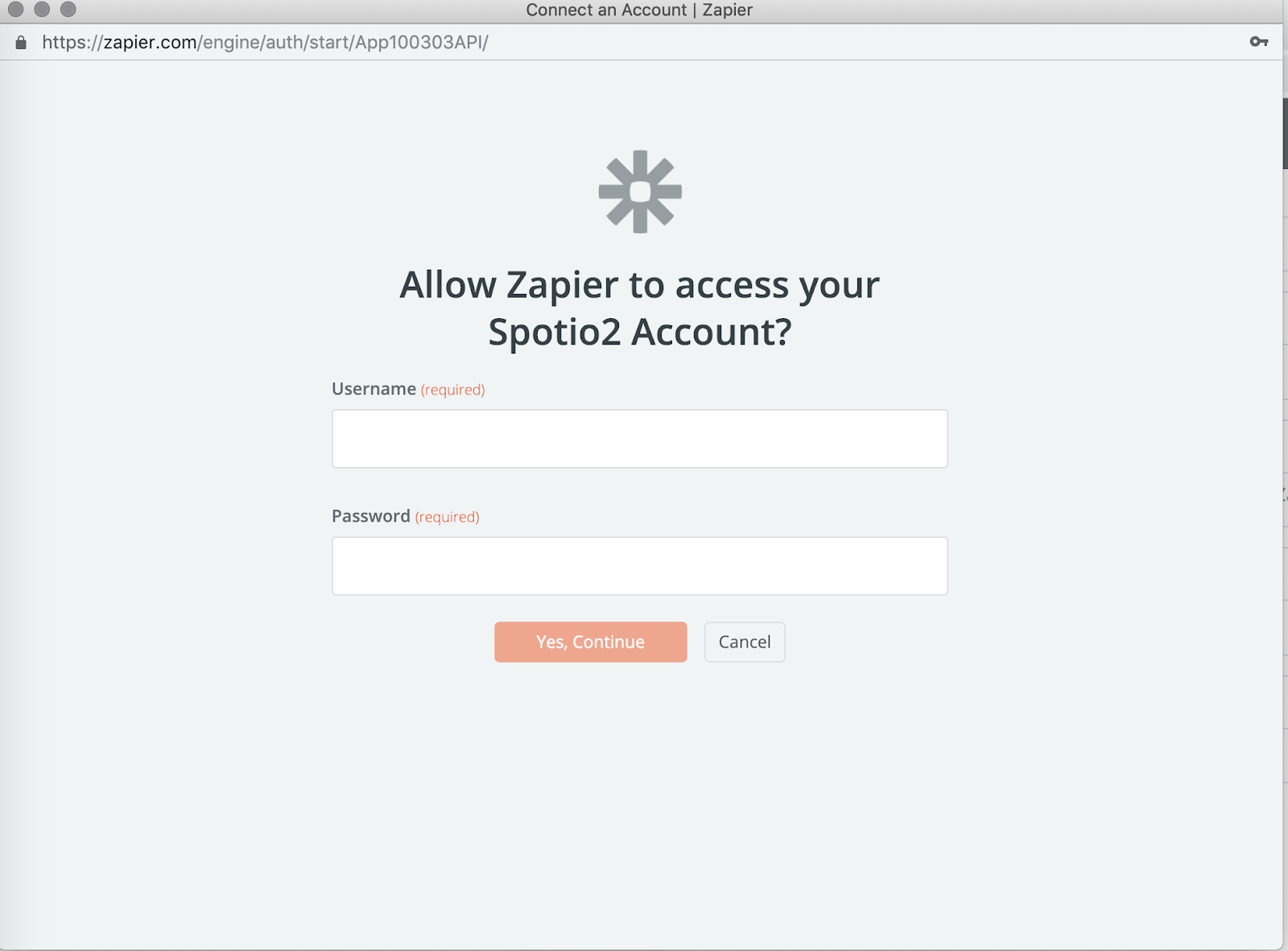 Step 3:
You will be able to get dummy test data, that you can use to match the account. This will happen automatically. Once it's done, hit continue.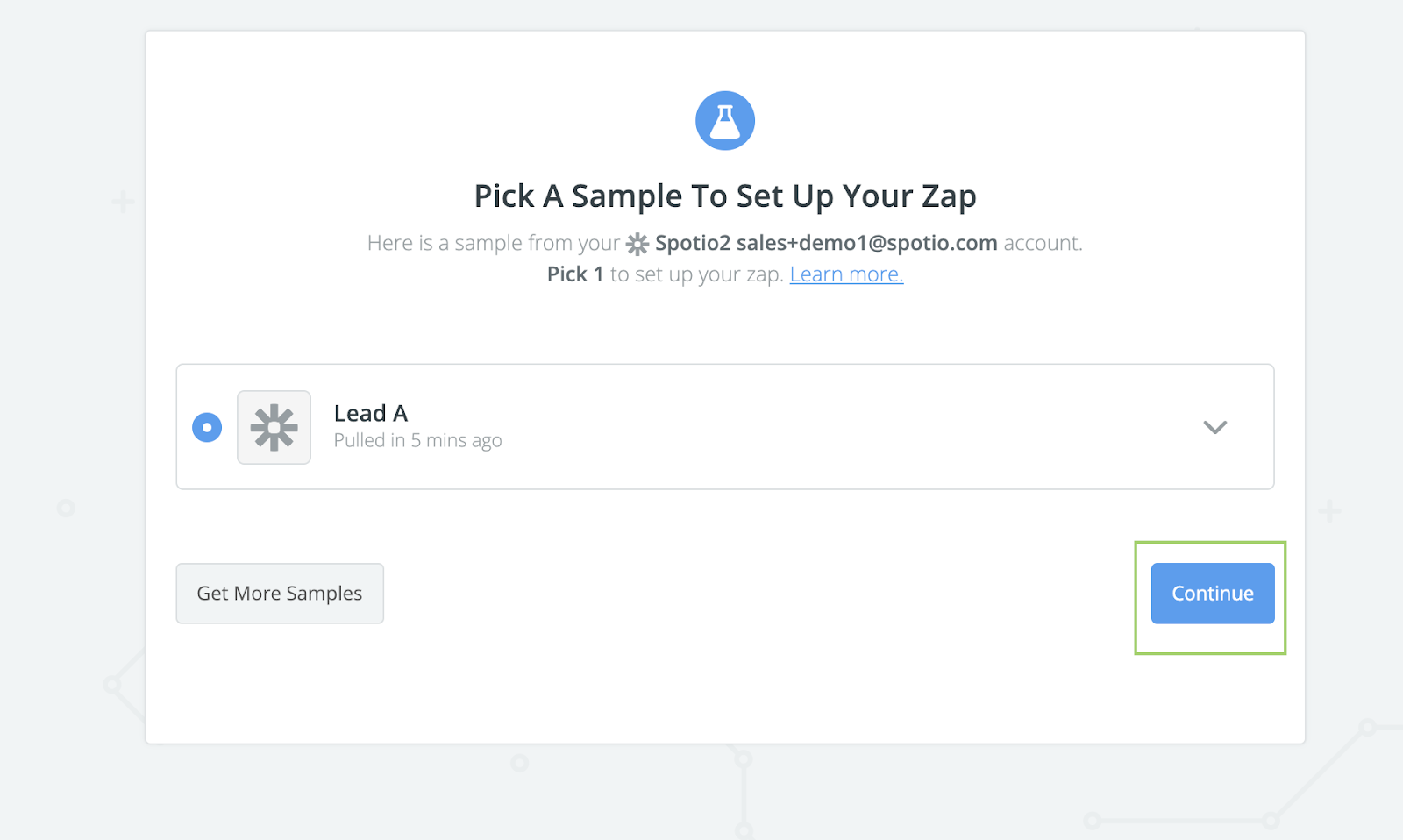 Step 4:
Choose your action of 'action/search' to find the application. You can go in and search for your receiving application that you want to push your SPOTIO information into.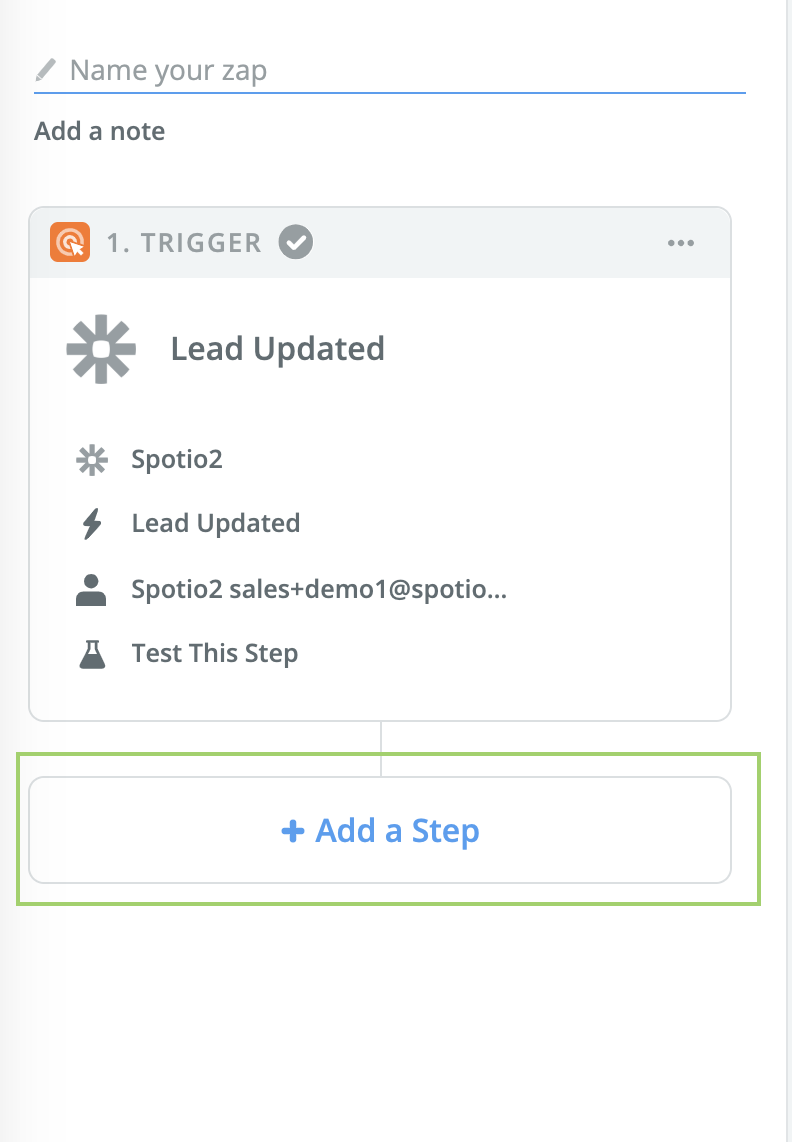 Customizing a Zap:
Often you may want to filter down the trigger that you are using to push the data out of SPOTIO. If you are wanting to filter it down to only push by a certain stage or if the lead contains a certain bit of information then you can add an in between step of a filter.
Step 1:
Add a step in between your trigger step 1 and your action step 2. If you haven't already built out your action step then you can start by creating your step 2 action of a filter or you can click the + to add an a middle step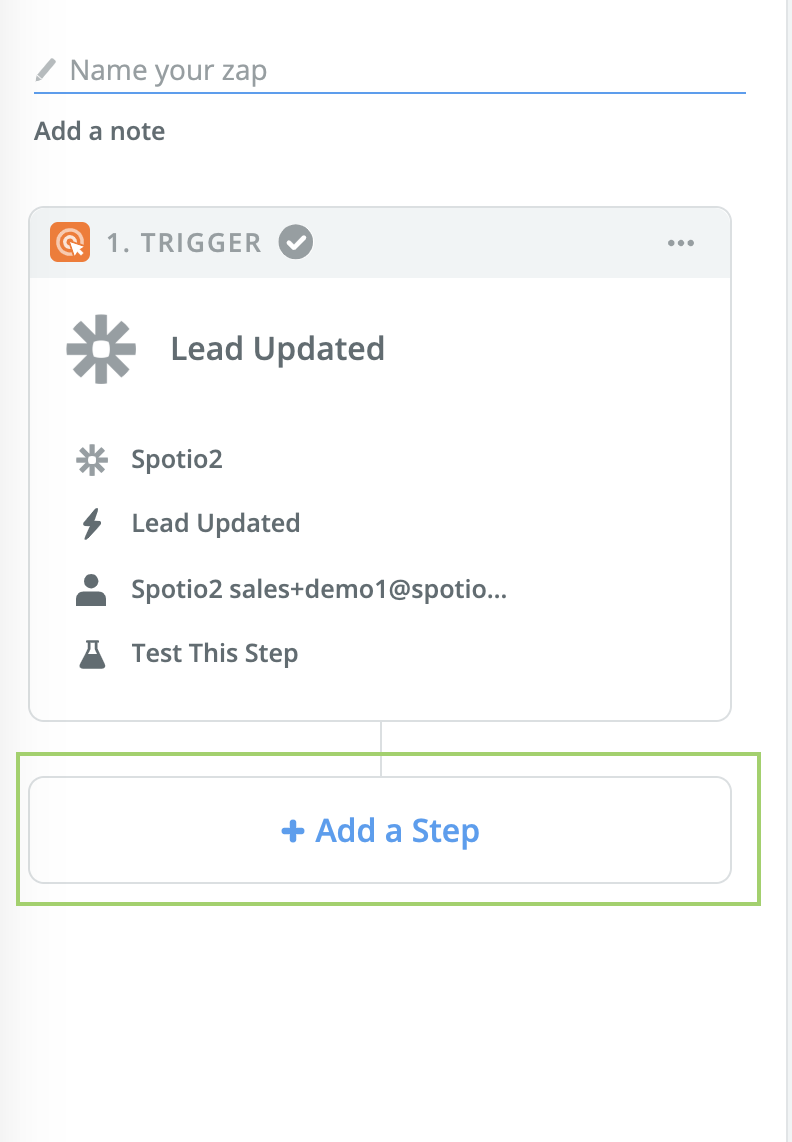 Step 2:
Choose 'Filter' to only allow the entire zap to continue if, the rules you set up to run this Zap are met.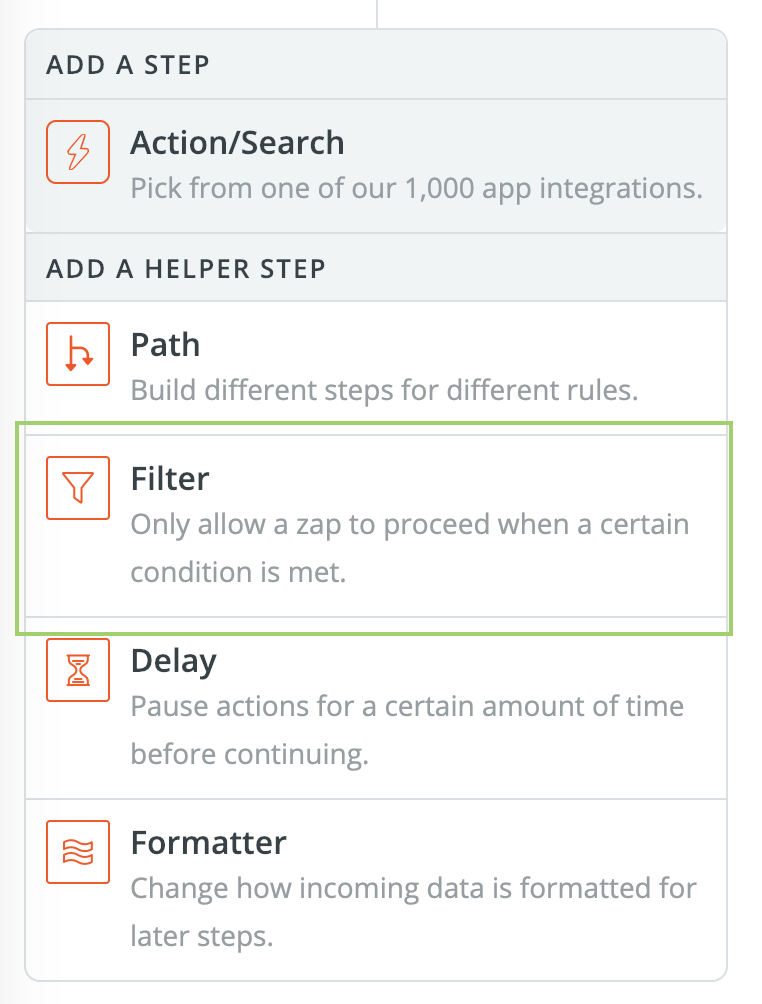 Step 3:
Once you have selected 'Filter' hit 'Save & Continue' to proceed to the next step.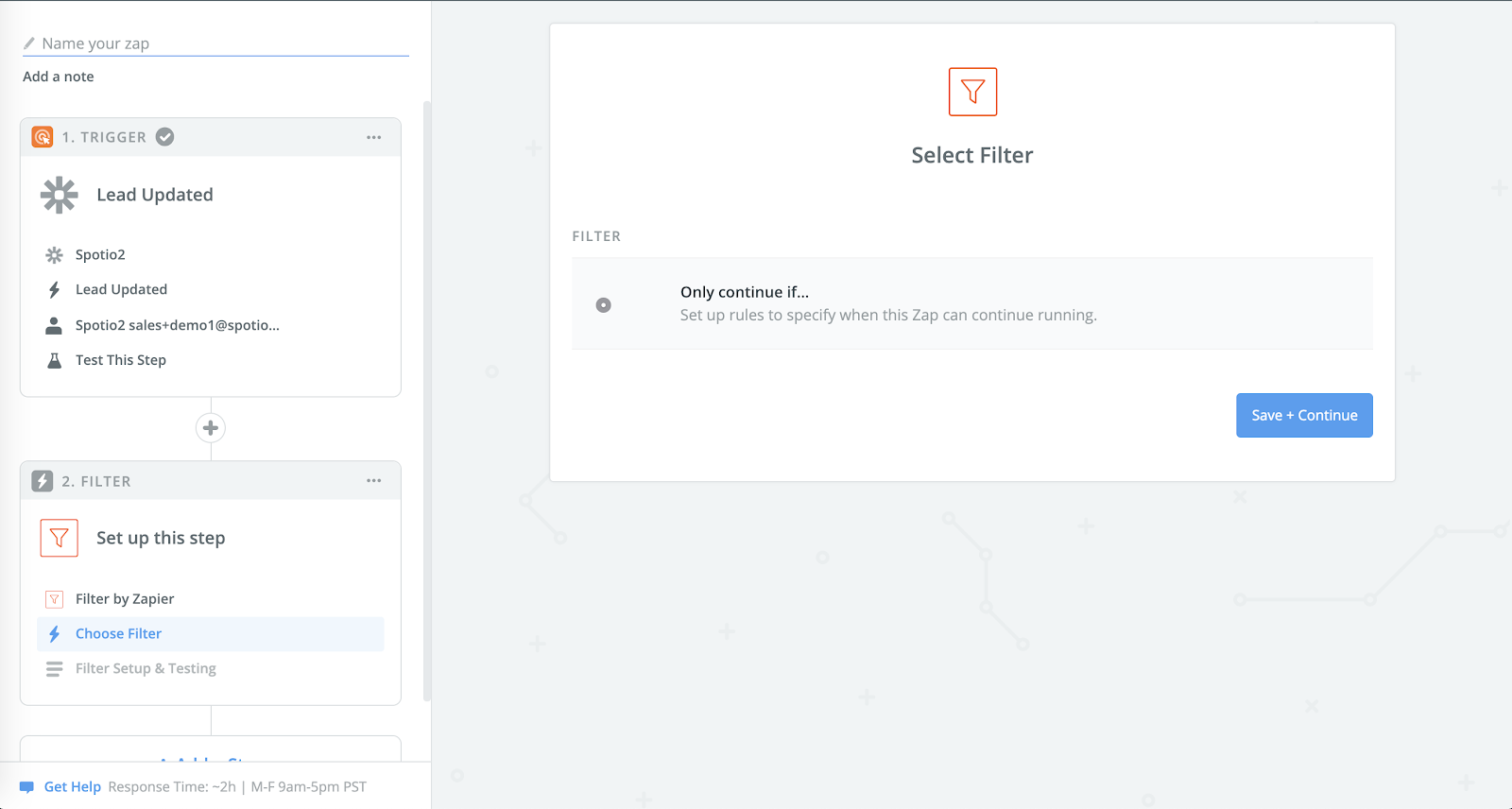 Step 4:
Choose your filter criteria. Here in the first option you can pick anything that SPOTIO pushes over such as STAGE name, or REP name, or STATE.
If you want to use AND conditions utilizing multiple filters then you can add the +AND to add a second set of criteria for matching. If there is more than one option of when the data could be push; for example if a lead is in the Closed Won or Deal Signed stages push the lead over then hit the +OR to add a second set of filters it will check against.
In the middle column determine how/what it needs to match such as contains or exactly matches.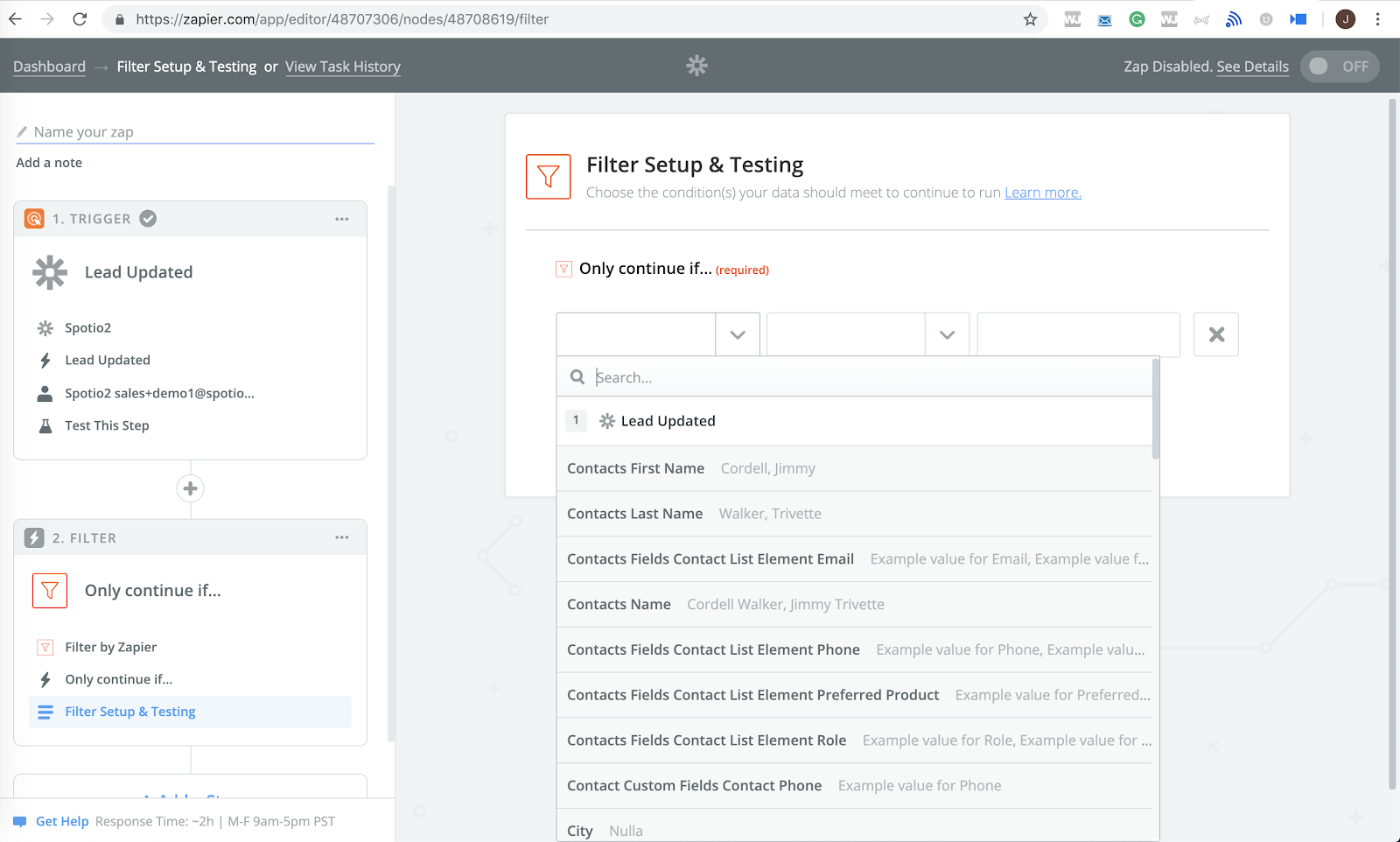 In the last column type in the specific information that you are looking to have matched.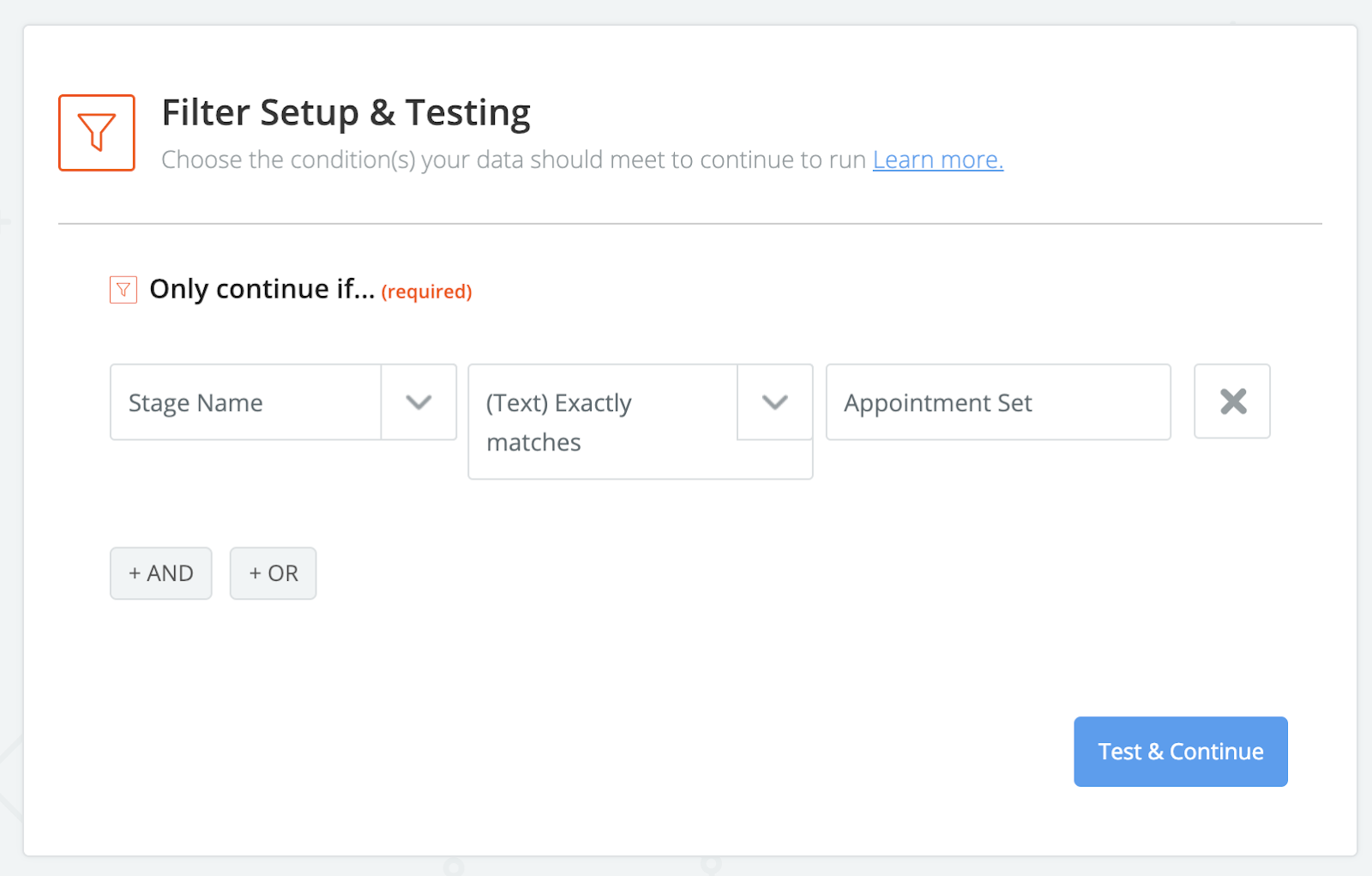 Step 5:
Test the filters you have created, if it filtered your test data correctly then proceed on with connecting your action application.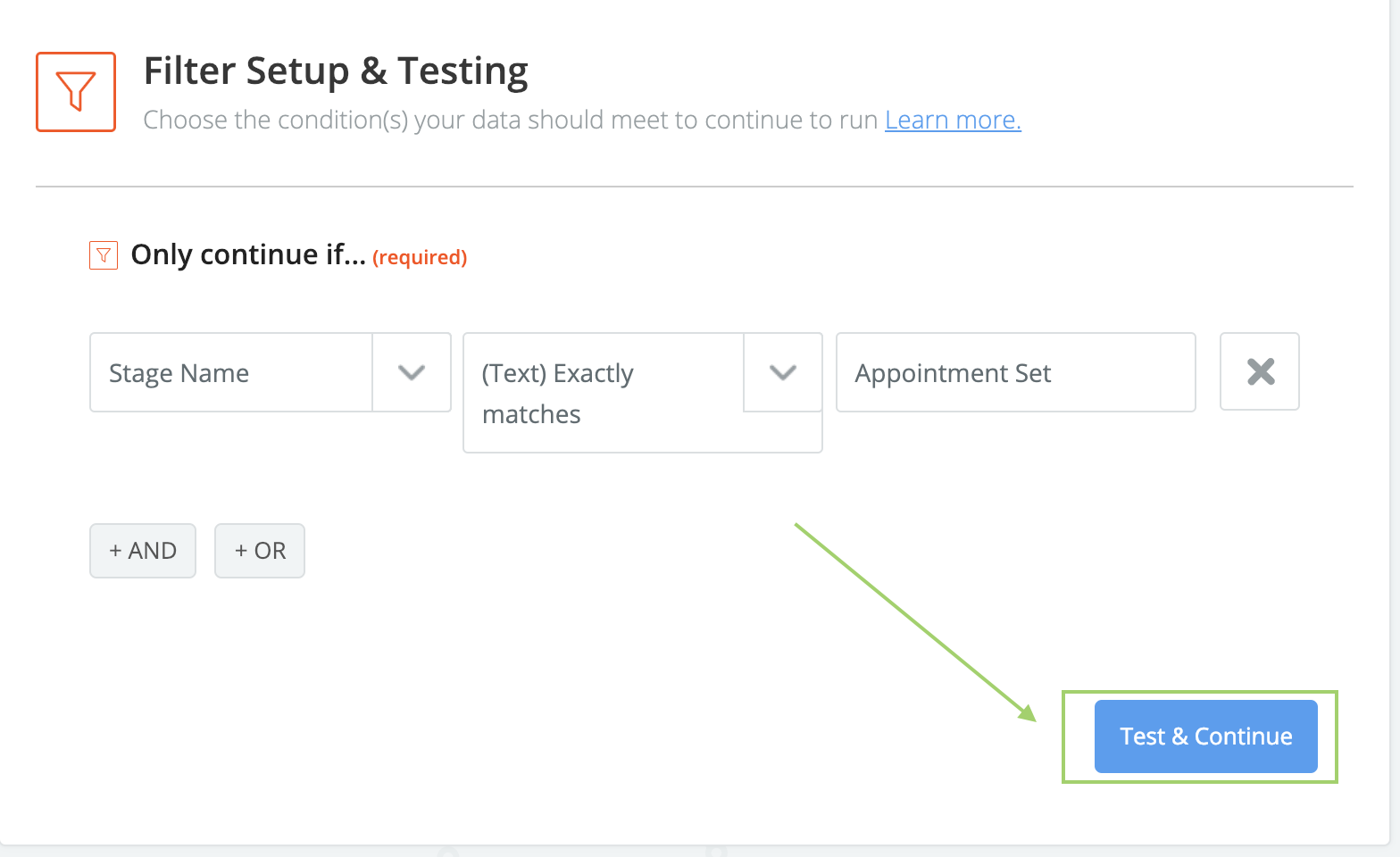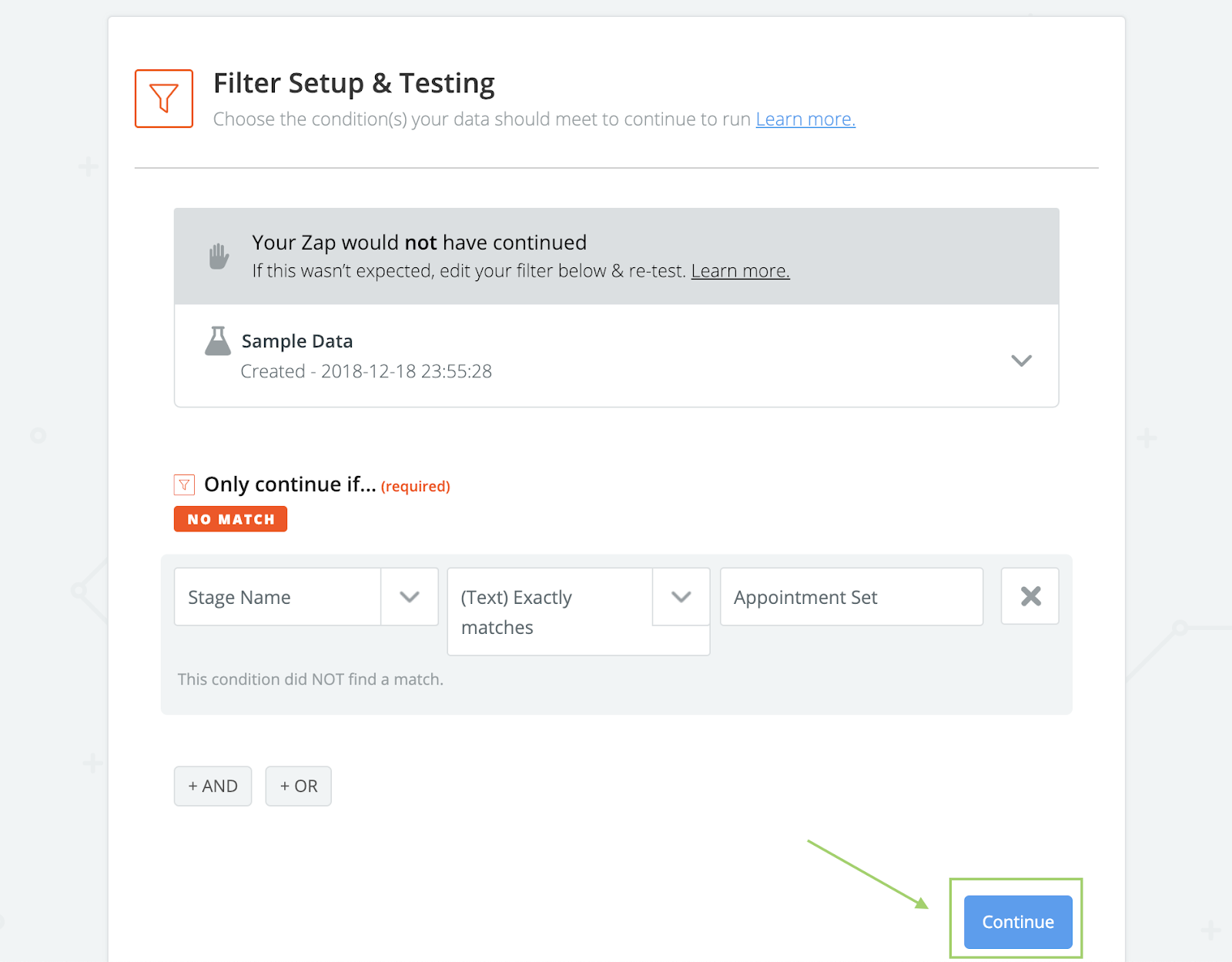 Frequently Asked Questions
Need more information?
Check out Zapier's Getting Started Guide HERE. This will walk you through the basics (and not-so-basics) of setting up your first Zap!