GPS Trails
Feature Description

With SPOTIO GPS Trails, Sales Managers are able to see routes and trails taken by Sales Reps while out canvassing or calling on customers. The SPOTIO app accesses the sales reps GPS periodically and registers their location. Throughout the day, these GPS pings are pieced together and displayed in the web app map as a GPS Trail.
Key Benefits
The key benefit with GPS Trails is improved visibility into Sales Reps activities. Depending on the customer need the applications range from improved accountability to improved sales rep productivity.
For example, some companies struggle with Sales Reps who aren't following through with the work they are assigned, and in some scenarios they're not where they said they were on any given day. The GPS Trails feature provides enhanced transparency around a sales reps location so this is no longer an issue.
Another different scenario is for residential door to door companies that have green/inexperienced Sales Reps who don't know how to effectively canvass a neighborhood, and they end up taking inefficient routes causing them to knock fewer doors on any given day than they could. GPS Trails allows Sales Manager to 'audit' their Sales Reps work include amount of time between GPS pings to make sure they're following the optimal path for maximum efficiency.
How does it work?
In order to see GPS Trails, they must be turned on in the web app Layers: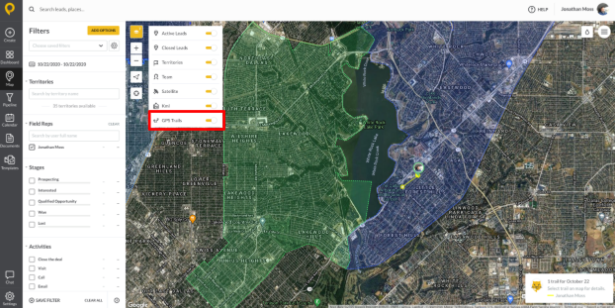 The SPOTIO mobile app periodically captures the location of the sales rep using its access to the device's GPS, pinging about once a minute while the app is open. Access to GPS is determined in the device's Location Settings for the mobile app. Depending on which option you select, SPOTIO may or may not track your location while the app is closed:

"Always" - SPOTIO will capture location, even when the app is closed

"Only while using the app" - SPOTIO will capture location when the app is open. If the app is closed, SPOTIO will not capture location
Visibility into the GPS Trail is available in the SPOTIO web app. Once the trip is completed the data is available that day. Only one day of data is available at a time, but every reps data can be seen when that day is selected in the filter. If a longer date range is selected, only the GPS Trail for the last day of the selected range is visible.
The Sales Reps who have GPS Trails will appear at the bottom right of the map screen, and the user can select the individual rep to see their location.

You can only select 10 users in the filters, and the system will only capture 100 points per day.